Balconies and terraces are often synonymous with places where you can relax, read a book, have a drink or spend quality time with friends. Today, these areas have become real living spaces, where people want to spend as much time as possible enjoying them. To enhance their potential, there are lighting solutions to suit the size, style and configuration of the space.
How can you brighten up your balcony?
The choice of lighting will therefore vary according to the layout of your balcony and your needs.
Space-saving wall lights
It saves a lot of floor space and adds a touch of character to a small balcony. Depending on its size and the electrical equipment available, you can opt for either a direct-lighting wall lamp that will give off a powerful light suited to a small surface area, or several indirect-lighting outdoor wall lamps. This is a real solution for saving space and illuminating a balcony in an elegant way.

It adds a touch of character and adapts well to all weather conditions.
Suspension for a decorative touch
Hanging lamps can also be an excellent solution if your balcony has a roof. It's the perfect decorative touch for a relaxed atmosphere, and will enhance a table or seating area. You can choose from a wide range of hanging arrangements, from a seaside atmosphere with woven hangers to an industrial feel with metal hangers. There's plenty of scope for you to have fun creating the atmosphere of your choice!
The floor lamp, mobile and functional
This luminaire is always a must-have, because it has so many benefits. Mobile and functional, it can be used as the main or accent light for a spacious balcony. Slender floor lamps provide bright light from above, enlarging small spaces. More imposing floor lamps on a large balcony will be real design objects in their own right. If you're looking for originality, you can easily find floor lamps in different shapes and colours. Some of them even have a remote control so you can change the light to suit your mood. Easy to move around, you'll be able to change the atmosphere as the evening progresses.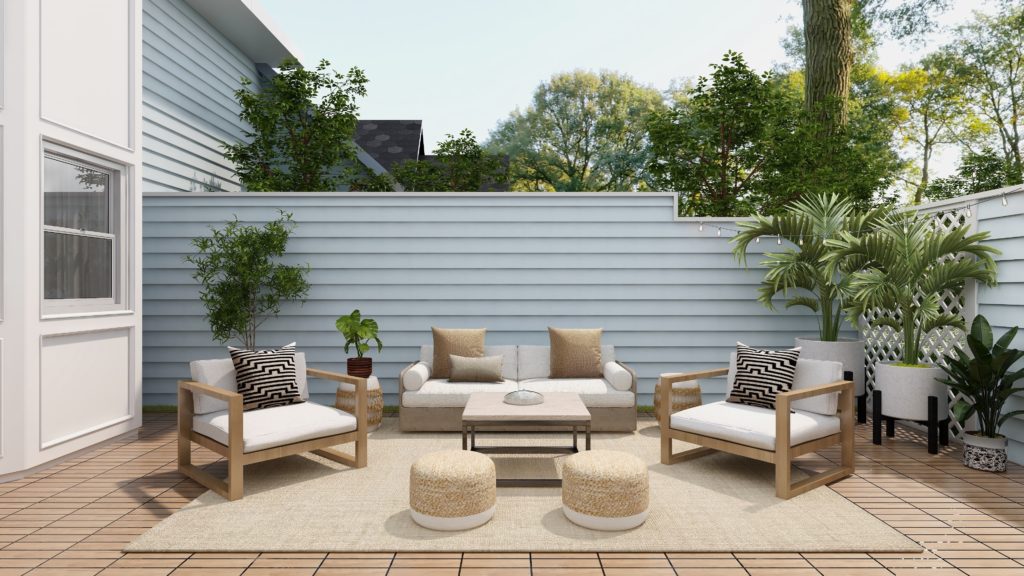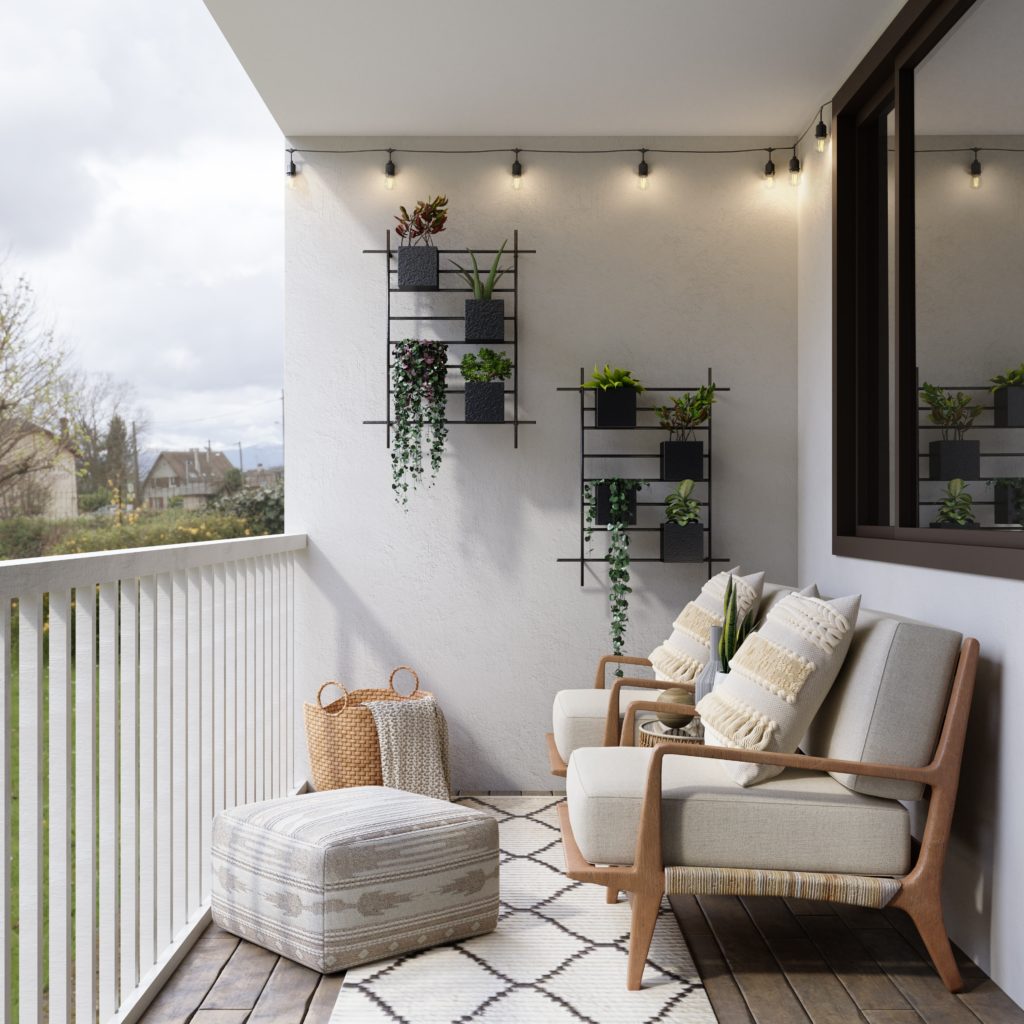 A string of lights for a subdued atmosphere
Decorative and aesthetically pleasing, they can enhance a small balcony. Some have a warm tone, others are cooler, and complement direct light. A colourful garland will immediately create a bohemian atmosphere, while a succession of lanterns will create a "guinguette" effect for a summery touch. Today's string lights make life easier, with some offering a timer, ideal for programming the lighting, and different flashing positions.
Solar-powered garlands are a great solution, because they're both ecological and economical.
There's nothing like them for decorating your space and providing a real eye-catcher. Don't hesitate to install them along the balustrade or in the plants, for a subdued and convivial atmosphere guaranteed.
Lanterns for a magical and elegant atmosphere
If you want to create a cosy atmosphere, a lantern is just the thing! These accent lights create a magical atmosphere. The trick is to place them in the four corners of the balcony to create a zen and bohemian atmosphere. What's more, they'll have the same effect as candles, so you won't have to relight them every time there's a gust of wind. There are also portable and rechargeable lanterns, so you can choose different intensities of light.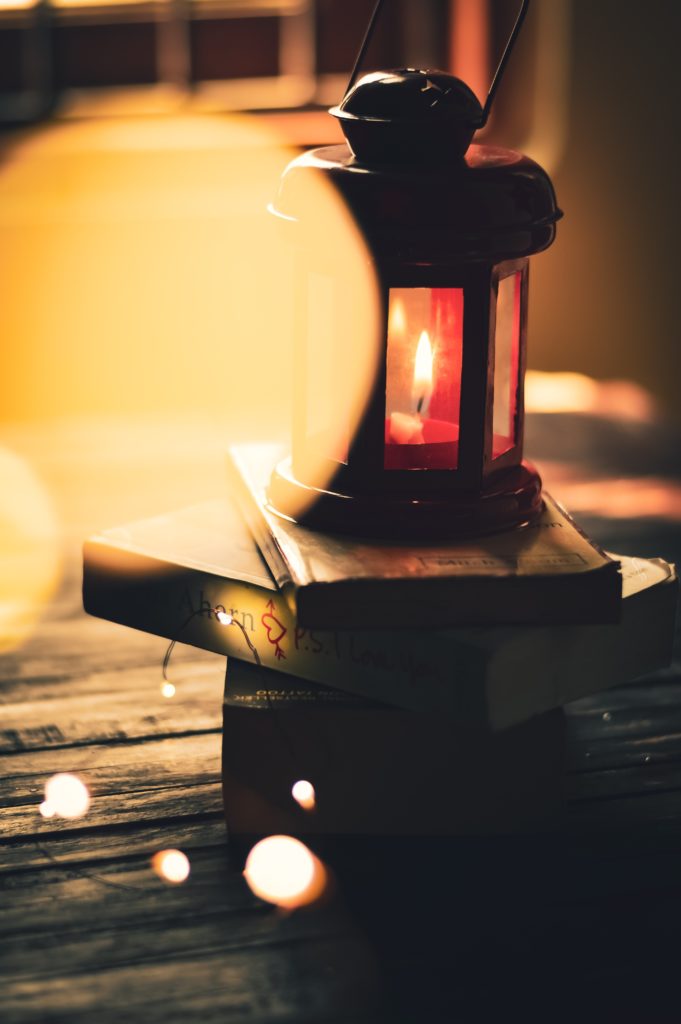 Do you have a terrace?
The terrace is the ultimate convivial space! It's usually the place to relax and dine. That's why it's important that the lighting is both practical and decorative.
Bright, subtle outdoor furniture
These waterproof, illuminated 2-in-1 pieces of furniture add a soft glow to any terrace. Cubes, stools or coffee tables can be placed on your terrace to create a cosy, convivial outdoor living area. They're not just a source of light, but can add character to the space.
If you have a corner with plants and flower pots, don't hesitate to install a few bollard lights to highlight the different foliage, spotlights, solar-powered nomad lamps or light pots. Some can even change colour as you wish. This lighting will highlight the vegetation while giving structure to the space!
In short, your balcony can become a real extra room, where people want to spend time as soon as the weather permits. It's a real addition to your home, and you'll now have plenty of ideas for creating relaxing moments or meals with friends, and making the most of them!
Find all our tips in the actualités section of our website.